Thank you for 65 wonderful days!
The 33rd Film Festival at Vienna's Rathausplatz came to a successful end on September 3, 2023.
Over nine weeks, 725,000 visitors flocked together to enjoy high-quality music films, culinary delights and the joys of summer at Vienna's Rathausplatz.
We would like to thank all our guests and are already looking forward to seeing you again next year.
34th Film Festival at Vienna's Rathausplatz
June 29 to September 1, 2024
#soVIENNA
For more than 30 years,  the City of Vienna has offered appealing cultural attractions free of charge at Vienna's Rathausplatz. And this year once more, over the course of 65 days, the Film Festival will offer a unique combination of major music productions and top-quality gastronomy under the open sky.
Pure joie de vivre combined with the lightness of summer – the Film Festival ist just #soVIENNA!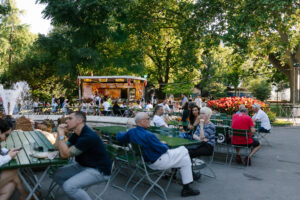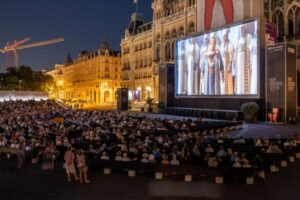 Culture
A first-rate program awaits you! The Film Festival presents an all-out production featuring a particularly appealing cultural offer, with crowd pullers that have sold out concert halls, stadiums and opera houses around the world.
Be it opera, classical, pop, rock, jazz, dance, world music or musicals – this year's program leaves nothing to be desired.
Dining
For the last three decades, the Film Festival has set the hearts of foodies and all lovers of good food racing. After all, what could be better than enjoying excellent cuisine with your loved ones against one of the most attractive backdrops in the city?
Whether you go for international dishes, local cuisine or cool drinks: the festival at the Rathausplatz is offering something to suit all tastes once again this year.
Opening times
34th Film Festival at Vienna's Rathausplatz
June 29 to September 1, 2024
Admission is free
How to get there
Tram:
Lines 1, D,  71, U2Z:
Rathausplatz / Burgtheater stop
Line 2:
Parliament
Weather
Webcam on the Burgtheater with a view of Vienna City Hall