Alongside major music film productions and superb gastronomy, the film festival also has many more attractions to offer. Numerous additional events and specific fixed happenings throughout the day ensure varied entertainment – ranging from live acts by local newcomers to guest performances by national and international stars in everything from jazz to folk music, opera and music productions specially for children, after-work events with DJ sounds and more. In this way, summer at Vienna's Rathausplatz becomes a holiday in the heart of the city.
Thursdays, Fridays, Saturdays: Live DJ
Starting at 5 pm, the evenings from Thursday to Saturday transform into a musical open-air after-work event. Warm summer evenings invite you to meet up with friends, get to know new ones or enjoy a relaxed end to the day by yourself.
With the wonderful mix of DJ sounds, a delicious culinary offering, refreshing cocktails and the fantastic atmosphere between the Town Hall and the Burgtheater, the Film Festival is a truly pleasant way to draw the day to a close.
Fridays:
"Bewegung findet Stadt" 
To get in the mood for the musical delight, this is preceded by an activity programme in the Rathauspark from 2 pm delivered by the initiative "Bewegung findet Stadt". Participation stations, fun games and other sporting offers provide plenty of options to ensure that young music lovers can properly let off steam before the presentation.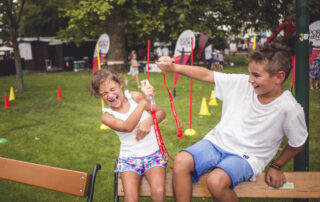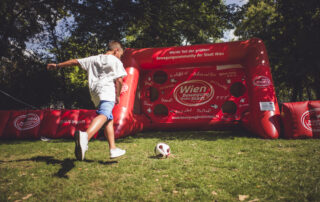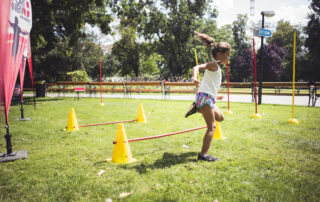 Children's Opera Festival
Since the introduction of the Children's Opera Festival in 2018, young visitors have also been at the centre of the Film Festival. A selected programme with age-appropriate opera films and popular kids' music productions, an LED screen suitable for daylight hours along with outstanding acoustics invite visitors to join in on a musical journey of adventure free of charge every Friday at 5 pm.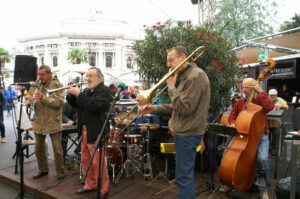 For fans of jazz, Sundays offer a wonderful opportunity to experience live musical performances by various jazz bands at the Rathausplatz. As part of the jazz brunch, on Sundays between 12 pm and 2:30 pm, visitors can enjoy an ideal symbiosis of musical talent, an upbeat atmosphere and delectable cuisine.
| Column 1 | Column 2 |
| --- | --- |
| Column 1 Value | Column 2 Value |
Guest performances
July 15 and 16: brass band and choir evening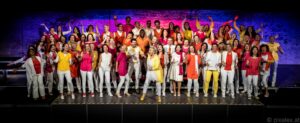 In cooperation with Kultursommer Wien, Vienna's Summer of Culture event, two concert evenings are planned at this year's Film Festival. On 15 July, a real treat awaits fans of brass music, who will get a taste of the diversity of this genre. Taking part: brass band Pfadfinderfanfare Wien, Musikverein
Leopoldau with Orange Corporation, wind and brass orchestra Akademische Bläserphilharmonie Wien and epicur bigband.
On 16 July, polyphonic diversity will be celebrated with a choral evening. All evening long, the Groove-Chor, Fem Chor, TU Wien Choir and Popchor Wien will provide a pensive, peaceful atmosphere.
Both performances start at 6:30 pm.
July 8 and August 5: Ever Artist Songwriter Sessions
In cooperation with Ever Artist, on two evenings of the Film Festival, several exceptional songwriters will be presented. Each evening, four songwriters will have the opportunity to perform their songs in the laid-back atmosphere at the Rathauspark.
On July 8, Momo's Marrow, Urbie, Tina Van Lukenda and Hope Will Lead will transform the atmosphare with their gentle sounds!
| Time | Act |
| --- | --- |
| 5 pm | Momo's Marrow |
| 5:30 pm | Urbie |
| 6 pm | Tina Van Lukenda |
| 6:30 pm | Hope Will Lead |
You can find more information about the artists here:
Momo's Marrow: Dynamic, authentic and full of feeling, Viennese band "Momo's Marrow" has been performing on Austria's stages since 2015 and offers playfully detailed indie pop rock far from the mainstream mush. With her debut album "Human Minds", singer-songwriter Jasmin Motamen breaks several taboos of her childhood and adolescence as a 90s girl and shares a glimpse into her innermost world.
Urbie: Honest and emotional – with her music, Urbie delves into stories inspired by real life. The singer-songwriter wraps German lyrics up in melancholic sounds, piercing right to the heart of audiences with her strong voice.
Tina Van Lukenda: As a ghostwriter, Tina already celebrated her first Ö3 radio and streaming successes with songs such as "Radio" by Krystof and "Goodbye" by Felicia Lu. Now she's finally ready to light up the stage herself, sharing her very own stories with the audience.
Hope Will Lead: You can catch Viennese band "Hope Will Lead" as a duo at the Film Festival, with lead singer Carina Stockinger and pianist Dorian Windegger creating courageous and emotional alternative melancholic pop. The lyrics, written and sung by lead singer Carina Stockinger alias Hope, ask the great questions of our time with soft clarity, verve and emphasis.
On August 5 Lucia Anima, Laura Grandy, Raphael Steiner and Paul Kilian will continue to show off their talents!
| Time | Act |
| --- | --- |
| 5 pm | Lucia Anima |
| 5:30 pm | Laura Grandy |
| 6 pm | Raphael Steiner |
| 6:30 pm | Paul Kilian |
Lucia Anima: Lucia Anima is a young singer-songwriter who hails from Vienna. Her songs are bursting with euphoria, bravery and joy for life and bring a soulful vibe that gets her audience grooving along.
Laura Grandy: Singer-songwriter Laura Grandy writes sentimental songs with a jazzy touch, at times jaunty, at times incredibly nostalgic, songs that ask questions about life. After spending seven years in London and the last two in Copenhagen, Amsterdam and Trondheim, you can hear the diverse, international influences in her pop, jazz, R&B and singer/songwriter compositions.
Raphael Steiner: From baker to actor to musician – in 2020, Raphael Steiner discovered the joys of music and has been active as a singer-songwriter and theatre musician ever since. On the guitar and piano, he gives emotional expression to the topics of trust, escape from reality and even lost love.
Paul Kilian: Having grown up in and around Vienna, he loves to paint, play music and write. Songs help him to stroll through everyday life instrument in hand, expressing his curiosity and joy.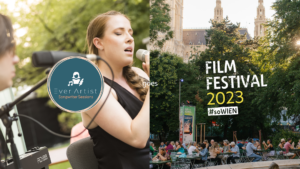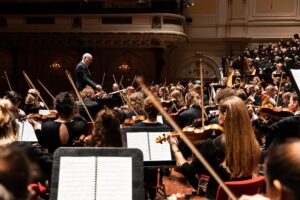 On 5 July at 5 pm, the renowned student orchestra VU Orkest from Amsterdam will introduce the evening with its gentle sounds. The symphony orchestra offers a wide repertoire of classical highlights. Join them on the journey as they bring the magic of music to their audiences around the world.